Karen Matthews (Spain)
Chair
Karen Matthews is the Senior Manager, Engagement and Communications at RMIT Europe – the European hub of RMIT University. She has over 15 years of experience in corporate communications and has worked in global environments in industry, higher education, government and not-for-profit in Australia, Vietnam, Spain and Canada. She is passionate about diversity and inclusion, gender equality, and particularly the power of mentoring to support and empower women in business. Karen is based in Barcelona, Spain.
Monique Zytnik (Germany)
Vice Chair
Monique is a senior communications and marketing professional experienced in internal and external relations, including global media relations, brand management and digital communications. Her focus areas include health, medical, investment and banking, broadcasting, and technologies such as mobile marketing and renewables. She has worked nationally and internationally, in government, corporate, not-for-profit, member based and start-up sectors. She recently spoke at the Quadriga Global Communications Summit on the theme of humour in work communications. She has a Master's in Communication (PR) from Melbourne's RMIT University. Monique is based in Berlin, DE.
Michael Nord, SCMP (The Netherlands)
Past Chair
Michael Nord, SCMP, has been actively involved in IABC since 2007. Former Chapter President, Regional Chair, International Board Member and global Treasurer, Michael has served on numerous committees and is currently also member of the Intl Finance Committee. Michael hails from Denmark where he worked in-house in companies and organisations leading PR and communication activities. He has also worked in agencies specialising in tech and IT, leading PR and marketing projects. Michael moved to Amsterdam in 2003 to pursue an international career. In 2006 he joined The Fifth Business, a specialised internal communications and change consultancy. He then worked for ERM as Client Services Director and left in 2021 to set up his own company. He currently works in an interim position as Shell's Corporate Relations Manager for IT and Technology, based in The Hague. Michael has lived and worked in EU, the UK and the US.
Gloria Walker, ABC (UK)
Secretary-Treasurer
Gloria is an Associate Lecturer at both the London College of Communication and Hult Business School. She's an experienced communications consultant in both internal and external communications. Positions both in-house and in agencies have equipped her with wide perspective of role of communications. Experienced in research and planning work, as well as implementation. Interested in project work that uses communications effectively to achieve business goals. She has a MA in Journalism from the University of Texas at Austin. She is currently serving as Secretary-Treasurer and would like to stay in the role to bring some continuity. Gloria is based in London, UK.
Colin Hensley (Belgium)
Board Member
Colin has been a partner at Hensley Partners for more than 10 years. He advises organisations on all aspects of business strategy, branding, innovation, marketing, and communications. He has lived and worked on three continents. His work focuses on communications as a driver for change – changing opinions, changing minds, and changing organisations. In his work, he has been both public and private, corporate and consultant. He has worked with clients across a wide variety of sectors, from cars to cardboard, deliveries to diamonds, and tyres to technology. Colin is based in Brussels, BE.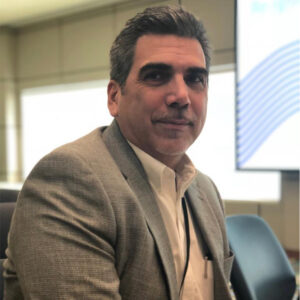 Gary G. Hernandez, ABC (Saudi Arabia)
Board Member
Gary Hernandez is Communications Consultant with Saudi Aramco where he is responsible for internal communications related to employee relations and human resources in alignment with company strategy. Gary has a passion for practical solutions and believes employee advocacy is the best means to meeting the needs of an enterprise. Prior to Saudi Aramco, Gary worked for ARCO and BP, providing communications expertise for business functions in downstream and upstream. Gary has degrees from Baylor University, George Mason University, and Utah State University. He is an Accredited Business Communicator (ABC).
Göktürk Demirel (Turkey)
Board Member
With over 19 years of experience in the field of communications, Göktürk Demirel held managerial positions in the automotive, defense and energy markets. As the Director of Communications at Enerjisa, Demirel leads the company's strategic communications, sustainability communications, reputation and brand management, media relations, leadership communications, digital communications, social media, corporate social responsibility, event management, and sponsorship processes. Demirel holds his bachelor's degree in International Relations from Bilkent University and pursued his master's degree in Brand Management at Sabancı University.
Ana Margarida Ximenes (Portugal)
Board Member
After a year as Past Chair, Ana will become a board member of IABC EMENA. She is also President, Portugal for Atrevia, Iberia's largest Communication Agency. Ana Co-founded ATREVIA in 1999, and co-leads ATREVIA's overseas international business development. With more than 20 years of experience, she assists clients in crisis communication, reputation and change management, lobby & public affairs, internal communication, community relations, brand & marketing management working with major category leaders. Ana began her career as a journalist (in print, radio & television). She holds a Degree in Social Communications (Universidade do Minho) and a Business Management Degree (PDE) from AESE Business School. In 2009, she was elected one of the Most Motivating Persons in Portugal by Business School ISCTE. She speaks Portuguese, English & Spanish. Ana is based in Lisbon, PT.