CONNECT with Kate Peters
January 25 @ 5:00 pm

-

6:00 pm

UTC+0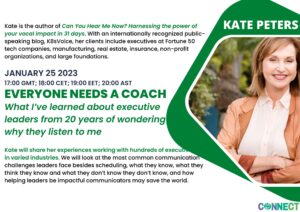 First of all, it's not presentation coaching!
Communication is much more than how you deliver a talk. Even though giving an effective presentation is vital to executives, presenting is just one result when they get communication right. Kate will share her experiences working with hundreds of executive leaders in varied industries. We will look at the most common communication challenges leaders face besides scheduling, what they know, what they think they know and what they don't know they don't know, and how helping leaders be impactful communicators may save the world.
Kate Peters is the author of Can You Hear Me Now? Harnessing the power of your vocal impact in 31 days. With an internationally recognized public-speaking blog, K8sVoice, her clients include executives at Fortune 50 tech companies, manufacturing, real estate, insurance, non-profit organizations, and large foundations. An expert on vocal impact, her radio and internet interviews have included making the KNX newsroom try out "mask resonance" and giving Valentine's Day advice on creating a sexy voice on the Wayne and Jane show in Canada. She lives in Southern California with her fabulous life partner, Doug Simao.